EDIT MAIN
PTA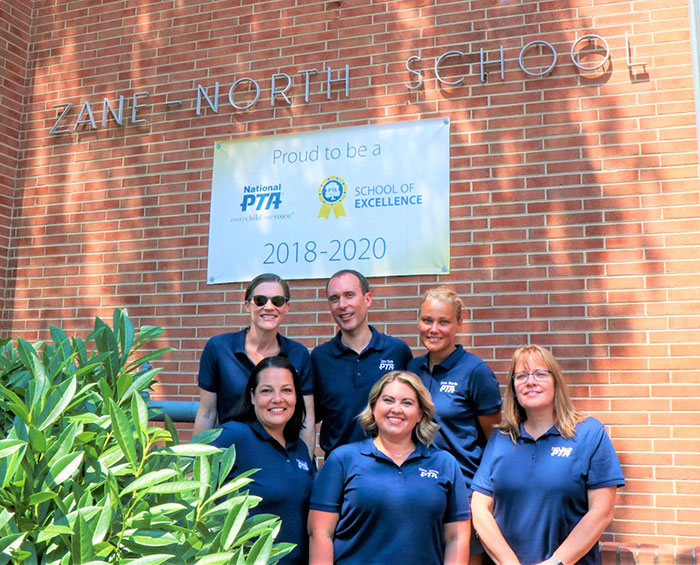 The Zane North PTA 2019-2020 Executive Board is:
President
Greg Dollak
email: greg.zanepta@gmail.com
Vice President
Katie McDevitt
Treasurer
Jennifer Beebe Poulos
Secretary
Jodie Farrow
Membership Chair
Jennifer Tucker
Reflections Chair
Danielle Loomis
Stay in touch with Zane North PTA!
Click here to follow us on Twitter
Receive updates right on your phone with Remind - click here to sign up.
The video above tells the story of how PTA began in 1897 and how it all relates to the work we do today at Zane North. Zane North PTA enhances lives in the Zane North community in a many ways. We provide funds for school assemblies, field trip transportation, student awards, holiday parties, costumes for the annual Zane North Revue show, and much more! We also host a variety of fun family events and educational programs for parents. You can help support the Zane North PTA through the following:
Purchase a Zane North PTA Membership
PTA is the oldest and largest volunteer child advocacy organization in the United States. PTA's mission is to make every child's potential a reality by engaging and empowering families and communities to advocate for all children. Anyone who cares about kids belongs in PTA! By purchasing a membership to Zane North PTA, you will join more than four million parents, teachers, grandparents, and other caring adults who share a commitment to improving the education, health, and safety of all children. Our membership dues for the 2019-20 school year are only $5 per person. Membership does not force you to volunteer for anything or require your attendance at any meetings! We appreciate every member, whether you can volunteer or not. You decide your time commitment! You can purchase a membership online by clicking here.
Make a Donation to Zane North PTA

Zane North PTA is classified as a tax-exempt 501(c)(3) public charity under Internal Revenue Code (IRC) and all donations are tax deductible. You can directly help fund teacher and student activities and ensure the quality of the programs we offer by making a donation to Zane North PTA. We appreciate your generous financial support to help fund our mission! Donations of any amount can be make by clicking here.
AmazonSmile
Shop using our AmazonSmile store #21093 and 0.5% of sales on eligible items will be donated to Zane North PTA.
Box Tops for Education
Look for the Box Tops for Education logo on participating items when you shop, download the Box Tops app, scan your receipt, and choose to direct your donation to Zane North school. Each Box Top is worth ten cents.
Crayola ColorCycle
Zane North PTA participates in the Crayola ColorCycle program. We have set up a collection bin located outside the Zane North office to deposit used markers for repurposing rather than sending them to landfills, We will accept highlighters and dry erase markers too, even non-Crayola brands! Students can also bring their used markers from home and deposit at school for recycling.
Files:

The deadline for students to submit their Reflections work has now passed. Thank you to all who entered! Congratulations to the six Zane North students whose work will advance to the Camden County judging! Good luck as your work moves forward through the Reflections process!
Zane North PTA is proud to present Reflections, a program which truly demonstrates the value of PTA membership and our organization's mission towards making every child's potential a reality! Reflections is an annual arts program established by National PTA in 1969 in which students can create their own original work in six categories:
Dance Choreography
Film Production
Literature
Music Composition
Photography
Visual Arts
All entries must be original work inspired by this year's Reflections theme, "Look Within." Each year, over 300,000 students nationwide participate in Reflections. Their work is judged and the winning entries then advance to the county level. County winners advance to the state level, then state winners advance to the national level for final judging. Reflections winners are announced in May and honored in June at the National PTA Convention, which will be held in Louisville, KY.
Reflections is open to students from all grades and all abilities. Since PTA membership dues are used to support the national Reflections program, students who submit an entry must have at least one member of their household who is a Zane North PTA member for the current school year in order to be eligible.Memberships can be purchased online for $5 by clicking here.
Interested students should review the Official Participation Rules & Arts Rules, complete a Reflections Student Entry Form, and return the completed entry form along with their work to Zane North by November 1, 2019. Official rules and entry forms can be accessed by clicking here.
Please contact Greg Dollak at greg.zanepta@gmail.com with any questions regarding Reflections.
Zane North PTA offers many rewarding and flexible volunteer opportunities throughout the school year. We greatly appreciate the support from those who generously give their time to work with our students! Please note that all volunteers must have a Zane North PTA membership for the current school year. Annual membership dues are just $5 per person and can be purchased online by clicking here.
Listed below are the current volunteer opportunities available. If you'd like to sign up for an event or have any questions, please contact Jennifer Tucker at jennznpta@gmail.com.
Library Checkout - weekly on Wednesdays
Volunteers are needed to help students find and checkout books in our library.
National PTA School of Excellence
National PTA School of Excellence is the highest recognition a PTA can earn. This achievement honors PTA's which make a year-long commitment to implementing an action plan for school improvement based on PTA's National Standards for Family-School Partnerships.
In August 2018, Zane North PTA was announced as a National PTA School of Excellence 2018-2020 honoree, one of only 279 PTA's out of over 23,000 nationwide to receive this honor.
In August 2019, we did it again, as Zane North PTA was named a National PTA School of Excellence 2019-2021 honoree. Zane North PTA was one of only nine PTA's nationwide to receive this honor for two consecutive years.
National PTA Blog
Our successful journey to being named a National PTA School of Excellence was chronicled in a blog written by National PTA. Click here to read the amazing story!
New Jersey PTA Outstanding Local Unit
From among the over six hundred PTA's active throughout the state of New Jersey, Zane North PTA was recognized on March 23, 2019 as New Jersey PTA's Outstanding Local Unit, the highest honor for PTA's in the state. This award acknowledged the significant strides Zane North PTA took during the 2018-19 school year, expanding the scope of their work into areas such as children's nutrition, gun safety, healthy lifestyles, and even traveling to Washington, DC to advocate before members of Congress on education issues, while increasing membership in their PTA by 210%. Our NJPTA Outstanding Local Unit award plaque is proudly displayed on the wall outside the Zane North office.
PTA Founders Day Video
Zane North PTA created a video starring the Zane North staff to tell the story of PTA Founders Day, which we celebrate to mark the occasion when the organization began in 1897. This video was selected as winner of a contest sponsored by the Camden County PTA which was open to all 54 PTA's in the county. Watch the video by clicking this link.
New Jersey PTA Success Award for Communication
At the New Jersey PTA Leadership Convention in March 2018, Zane North PTA was presented with the Success Award for Communication. This statewide honor was bestowed on Zane North PTA for the innovative and engaging ways we communicate to promote school events and activities. Our NJPTA Communication award plaque is proudly displayed on the wall outside the Zane North office.